When planning a group outing to see a Broadway show, you know it can be tough to choose the right one. There are so many great options out there, and it can be hard to please everyone in your group. Each of the fantastic shows has something unique to offer, so choosing the right one can be tricky. If you're having trouble narrowing down the options, this guide will help you select a Broadway show that everyone in your group will love.

Broadway shows are the perfect group activity. Seeing a show with friends or family is a great way to bond and create memories together. Not only are Broadway shows excellent entertainment, but they can also be educational. You and your group will learn about different cultures and history while enjoying a fabulous performance. Seeing a Broadway show is a truly unmatched experience you can't get anywhere else.
So while you're looking for a Broadway show to see as a group, there are a few things you should keep in mind. With some planning and foresight, you can pick the perfect show for everyone to enjoy.
1. Consider your group's interests and general mood when making your decision. 
Are you going with a close group of friends that you grew up with and would like to return to that happy place in childhood for just a moment? Then shows like The Lion King or Aladdin would be a great choice. Or, if your group is into comedy, The Book of Mormon, or a new show, Some Like it Hot will have them laughing all night long. Hamilton is for those who always search for something unique and fresh; this show has redefined "classic" on Broadway. No matter your group's interests, there's a Broadway show out there that's perfect for your specific case.
See shows playing on Broadway in 2022-2023


2. Broadway is the perfect destination for groups of all ages. 
Whether you're searching for a family-friendly or more adult-oriented show, there's a Broadway show for your group. Some Broadway shows are more appropriate for older audiences, while others are perfect for families with kids. It is important to check the age recommendations before making a final decision. Some shows are meant for a mature audience and may not be appropriate for younger viewers. By checking the age restrictions, you can ensure that your group will be able to enjoy the show without any issues.

Families love musicals that have a little something for everyone, and Broadway offers plenty of options. Shows like Aladdin, Harry Potter and the Cursed Child, The Lion King, and Wicked will delight everyone in the family, fascinating both children and adults.
If you're choosing a Broadway show that is geared more toward adults, some of the best adult-oriented shows on Broadway include the Neil Diamond bio-musical A Beautiful Noise and the classic Moulin Rouge. Audiences will also enjoy the show-stopping MJ and the hilarious The Book of Mormon. Or see the powerful and elegant & Juliet and the beautifully crafted Hadestown. Audiences of all ages will enjoy SIX and Almost Famous, both offering fresh takes on the source material. From classic musicals to brand new hits, there's something for every group to love on Broadway.
3. You should also consider whether your group members have seen the show before. 
If your group consists of many theatre lovers who have already seen plenty of Broadway shows, choose a newer or less popular one so that no one will be bored.
New productions in 2022 include Almost Famous, KPOP, and Some Like It Hot.
If you and your group have never seen a Broadway show, you may want to consider a popular and beloved show for your first experience. Some of the highly recommended productions for first-time visitors to Broadway are The Phantom of the Opera, one of the most popular shows of all time; Wicked, an iconic piece that tells the story of the witches of Oz from a different perspective; The Lion King, a Broadway classic that has been thrilling audiences for over 20 years; and Hamilton, a hip-hop musical telling the story of American founding father, Alexander Hamilton. If you're choosing a Broadway show to see on your first trip, check out one of these fan favorites.
These shows are not only popular, but they are also highly acclaimed by critics and audiences alike. They will provide you with a wonderful introduction to the world of Broadway.
4. Budget is always a consideration. 
Broadway is a magical place, and it gets even more special when shared with the people whose company you enjoy. However, even though there is most often a price point and locations that make all shows accessible to a wide audience, Broadway shows can get expensive. Buying as a group helps. Group tickets are provided at a discount making the shows more available for budget-conscious Broadway guests, so everyone has an opportunity to see a world-renowned musical or a modern, emerging play with their friends, family, classmates, or colleagues.  Remember you + nine friends = a group!
Group tickets cost less per person than individual tickets. Broadway Inbound is an official group ticket seller for Broadway shows. We offer lower rates for a variety of productions on Broadway to groups, usually starting with 10+ members.
Additionally, many great new shows that just opened are still trying to find their audience – their pricing is usually affordable. But can change fast if they get rave reviews.
5. It's important to consider any accessibility needs of your group members.


There are a variety of ways to make sure everyone in your group can enjoy the show, from choosing a venue that is accessible for all to selecting a show that offers captioning services. Broadway theaters offer services like Assistive Listening, Closed Captioning, and Audio Description. There are also locations set up for customers using wheelchairs or having other mobility needs. You can also comfortably bring your international guests along to see a show, as real-time subtitles in several different languages are available at many theatres. All of these services are provided free of charge, or with a very small fee attached. Remember that it is best to check with your particular theater/show before you come to ensure they have what you need.
In addition, think about your group's possible psychological triggers. What are the things that will make your group members feel uncomfortable or anxious? By taking the time to consider the accessibility needs of your group, you can ensure that everyone has a great time at the theatre.
Here are several suggestions that can make your planning process a little easier.
The Lion King is a classic Broadway show perfect for groups of all ages. It is an unforgettable experience with its iconic songs and stunning visuals.
Wicked is another gem and one of the most popular Broadway shows of all time, for a good reason. It's the perfect mix of magic, heart, and spectacular singing and dancing.
Another Broadway classic, The Phantom of the Opera, is a must-see for any group. With its soaring music and unforgettable love story, it's sure to please everyone in your group.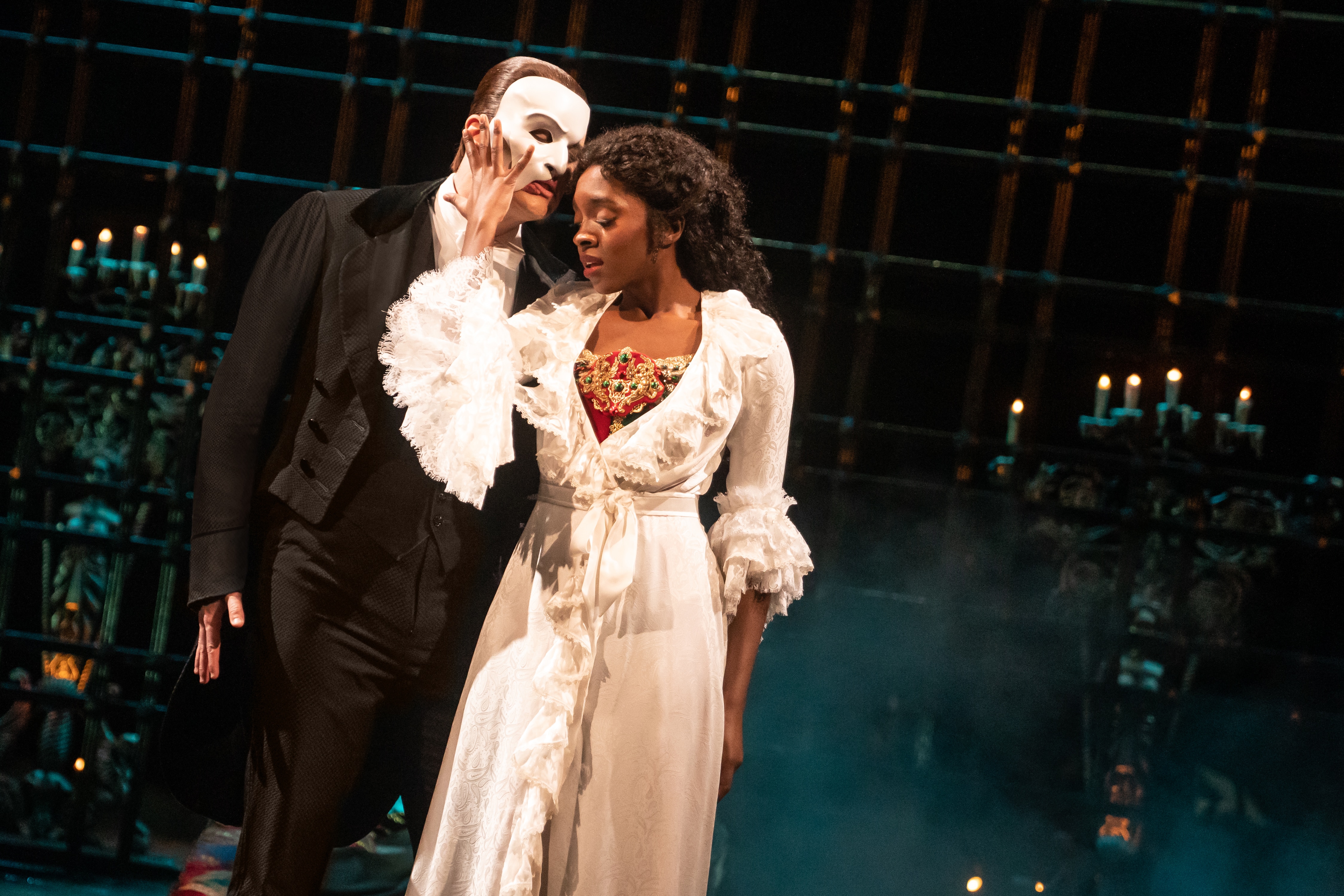 & Juliet is a Broadway show that tells the story of what might have happened if the famous Shakespearean Juliet had never died. The show is a modern retelling of the classic tale and features some of the original Shakespearean characters. & Juliet is written by David West Read and has a score by Max Martin.
The Broadway show A Beautiful Noise is a story about the life and work of legendary singer-songwriter Neil Diamond. The show features Diamond's greatest hits, including "Sweet Caroline," "America," and "Forever in Blue Jeans."  "A Beautiful Noise" is a feel-good show that will leave you uplifted and inspired.
The Broadway staging of Aladdin is based on the original movie. You'll find yourself in the fictional Arabian city of Agrabah and hear the story of a street urchin who turns out to be a genuine "diamond in the rough." Aladdin has a big dream of showing what he's truly made of after having lived a life of a "worthless street rat" for so many years of his youth. The story resonates with audiences of all ages, and Aladdin's journey is universal—the story of a young man who finds the courage to be who he truly is and his true love.
Almost Famous is a coming-of-age story about a teenage boy, William, who is given the opportunity to write for Rolling Stone magazine. He goes on the road with an up-and-coming rock band Stillwater and learns about life, love, and rock and roll. Through the eyes of the young journalist, audiences will see the behind-the-scenes of the music industry and the rock band's rise to fame.

Beetlejuice is a show based on the 1988 American fantasy-horror film directed by Tim Burton. It tells the story of a newly-deceased couple, the Maitlands, who haunt their former home in an attempt to drive out the new owners; Beetlejuice, the titular ghoul out for chaos, who gave them that idea in exchange for a favor; and Lydia Deetz, a grieving gothic teenager trying to find her place after her mother's death.
Chicago is set in the city of Chicago in the 1920s and follows the lives of two women who are accused of murder. The show is known for its jazz and blues-inspired score and iconic Bob Fosse choreography.
Funny Girl is a musical about the life of comedian Fanny Brice. The show follows Fanny as she gets her big break and meets the handsome Nick Arnstein. As Fanny's career takes off, her personal life is complicated. Fanny no longer finds herself always on the same page with Nick, and he becomes seemingly unsupportive of her success.


The Broadway musical Hadestown tells the ancient Greek myth of Orpheus and Eurydice, in which the musician Orpheus travels to the underworld to rescue his wife Eurydice from the god Hades. Along the way, he must confront the Fates, who control the destiny of all mortals and the demons of the underworld. The incredible sets created by Rachel Hauck will transport you to a world that is a mixture of the American Dust Bowl imagery, Greek Amphitheaters, and an old New Orleans jazz bar. The music composed by Anaïs Mitchell reflects this setting perfectly with a mix of folk, blues, and gospel sound.
Hamilton is a hip-hop musical about the life of American Founding Father Alexander Hamilton, with music, lyrics, and a book by Lin-Manuel Miranda. The show draws heavily from hip-hop, R&B, pop, and traditional show tunes and has been praised for its innovative use of these genres. Hamilton has been praised for its accurate commentary on American history and paying tribute to people of color who took part in the American Revolution.


Harry Potter and the Cursed Child continues the famous Harry Potter series. The story follows Harry Potter, now a middle-aged man, as he tries to deal with his teenage son, Albus, who is struggling with his own identity. Albus must overcome his own demons, as well as the legacy of his father, to find his place in the world. The story is full of magic, adventure, and heart.
KPOP is a new musical from the minds of Jason Kim (the book), Helen Park, and Max Vernon (music and lyrics). This exhilarating show follows a group of young superstars from Korea as they try to make it big in the cutthroat world of American pop music, putting everything on the line for a one-night-only concert. Their journey is full of new opportunities, self-doubt, and personal struggles.
The Little Shop of Horrors is a musical about a hapless florist shop worker who raises a plant that feeds on human blood and flesh. The plant, named "Audrey II," after the worker's love interest, grows enormous in size, demanding ever-greater sacrifices. The worker's murderous activities to satisfy the plant's hunger eventually lead to disaster.
MJ is a show about the life and art of Michael Jackson. The show covers his childhood as a member of the Jackson 5, his solo career, and his personal life. The show features some of Jackson's most iconic songs, including "Billie Jean," "Thriller," and "Man in the Mirror."



Moulin Rouge is a Broadway show that tells the story of a young man who falls in love with a woman he meets at a cabaret. The two must overcome obstacles to be together, including the cabaret's disapproving manager and the Moulin Rouge's dangerous world.
SIX is a Broadway show about the wives of Henry VIII with a modern twist. The show is told from the wives' perspective, and each wife has a different detail to add to this historical puzzle. The show is funny, sad, and empowering, giving insight into these historical women's lives.
Some Like It Hot follows two male musicians who witness a crime and are forced to go on the run in disguise. To escape, they dress in drag and join an all-female band bound for Miami. Things get complicated when one of them falls in love with the band's singer, Sugar Kane, but can't break his character and confess his feelings to keep both him and his friend safe.
The Book of Mormon is a musical about two young Mormon missionaries who are sent to Uganda to convert the locals to Mormonism. The missionaries face many challenges, including a violent warlord and a deadly disease, but ultimately they are able to win over the villagers and help them to better their lives.