"Insight; New York Hospitality Professionals", a weekly interview series with professionals from the MICE industry in New York.
These are uncertain times for our industry – yet we believe that now is the moment to bring our industry closer together by strengthening our ties and relationships on a more human level. It is for this reason that Shackman Associates is undertaking a series of interviews with other New York hospitality professionals to learn how they are managing during this time.
In today's episode; New York Hospitality Professional Karen Shackman, President and CEO of Shackman Associates interviews Bob Hofmann, VP of Broadway Inbound, a Shubert Organization Company.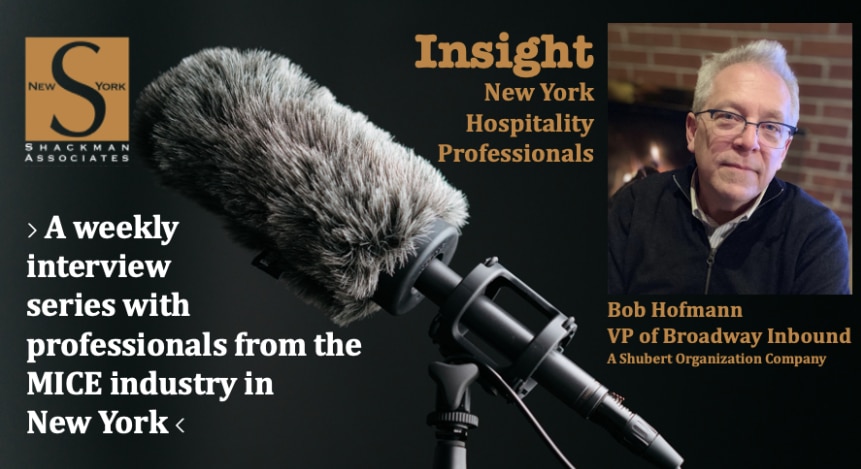 Karen: Hello Bob,  Thanks so much for agreeing to join our interview series.  We go back so many years, and I think back to those wonderful early days when we shared many trade-show booths in support of tourism to our amazing city. 

Broadway is such a key component of New York's identity and every program we  have run over the years has had a theatre experience.  As a result,  we are all anxiously awaiting the lights of "the great white way" to be turned back on.   And, so, the purpose of this is to find out a little more about what is happening in the theatre industry as of now, and, of course, how you are doing under these circumstances.  Before we go into these questions, please tell us a bit about yourself.

Bob: I'm a theatre brat.  Add in a love of sports, literature, art and Buddhist philosophy … I married a beautiful performer right out of college, Ann Kittredge, and we have 2 complex, brilliant children, a high school junior and college sophomore … Family First. I earned a BCA from UNC Charlotte – who can tell me what that is? -- and my MFA from Carnegie Mellon University. Other than waiting tables – Arriba Arriba anyone – I've been fortunate enough to always work in the theatre, in both creative and business positions. I seek challenges and always strive to add value in all I undertake...CLICK FOR FULL INTERVIEW