Tickets to the Show: A Guide to Official Broadway Group Sales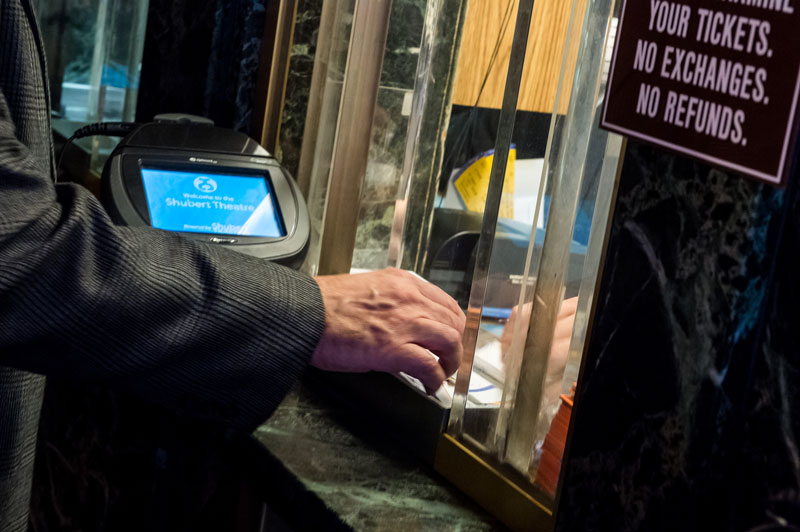 If you're looking for a special experience in New York City, seeing a show on Broadway is a must. Broadway is the place where the biggest and best shows in the world premiere. Whether you're a fan of musicals or dramas, there's a show on Broadway for you. You'll get to enjoy a performance by some of the world's best actors, singers, and dancers, and you'll be surrounded by other theatre fans who are just as excited.
Broadway shows can be expensive, but there are various price points available to make shows accessible to all who wish to attend and  if you go with a group, you can often access discounted rates. In this guide, we'll tell you everything you need to know about official Broadway group sales, group discounts available, the process of reserving seats, and how to make the most of your theatre going experience.
Official Broadway group tickets sales
Most Broadway shows offer group sales pricing. Depending on the show, group rates are available for parties of 10 or more people, and offer a significant discount off the regular ticket price. But where do you start?
First, make sure you are buying from an official ticketing agent. There are many places that sell tickets, but if you want to avoid surcharges and ensure that your tickets are legitimate, stick to the official sources.
Group sales are handled by Broadway Inbound, an official source for Broadway group tickets. Broadway Inbound is a division of The Shubert Organization, the oldest theatre company in America, bringing Broadway to audiences for over 100 years! One of the most reputable and longstanding providers of show tickets, Broadway Inbound offers the best prices on group tickets, as well as a wide variety of packages and experiences, like behind-the-scenes tours and workshops, perfect for any budget.
How many people are considered to be a group for discounted Broadway tickets?
It depends on the show, but generally, discounts are available for groups of 10 or more people. This includes classics such as The Phantom of the Opera, Chicago, The Book of Mormon as well as new productions like MJ and Mrs. Doubtfire. Some shows, like Hamilton, have a group minimum of 20 people. Many shows have revised their requirements in 2022 to accommodate smaller groups. Be sure to check the Broadway Inbound website for up-to-date information for each show.


How to choose the right show for your group
Broadway shows are a great way for groups to spend an evening out together. Here are some tips on how to choose the right one for you.
* Consider your group's interests
Whether you're a theatre lover or it's your first-time on Broadway, choosing the right show can be overwhelming. Broadway has a great selection of both musicals and plays.
There are Broadway shows for everyone, so it's important to consider your group's interests when making a decision. If your group is full of theatre aficionados, then a show like the Tony Award®-winning Hadestown would be a great choice. If your group is more varied in its interests, Come From Away may be a better option. For student groups or groups with younger members, Disney's The Lion King is always a hit. Family-friendly shows include Aladdin, Wicked, The Phantom of the Opera, to name a few. To Kill a Mockingbird is another popular choice with groups.

Broadway Inbound has a full list of Broadway shows and the recommended ages for audiences. Start browsing and find the perfect one for you and your group today.
* Consider your group's budget
Broadway theatre ticket prices vary greatly depending on the show, date, and seat location. Typically, the least expensive tickets are for weekday performances in the rear orchestra or mezzanine sections. The most expensive tickets are for weekend evening  performances in prime locations. It's important to choose the section and performance  that fits your group's budget. See group ticket prices on broadwayinbound.com.
* Consider the group's age range
Some Broadway shows are geared towards adults, so it's important to consider the group's age range when planning. If you have a group of high school students, then a show like Dear Evan Hansen may be more appropriate. A show like MJ may be more suited for audiences who grew up listening to the music of Michael Jackson and who are interested in the life and creative process of this legendary performer.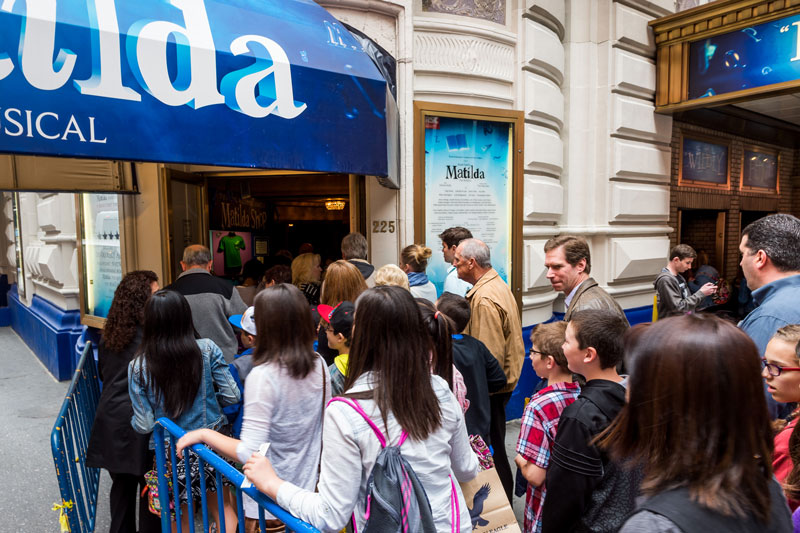 * Be flexible with your dates
Broadway shows often go on sale months in advance, so there is a good chance that you will be able to find tickets for the show you want, and at the price that works for your group, if you are flexible with your dates.
No matter what show you choose, make sure to book your tickets well in advance. Broadway shows can be extremely popular and tend to sell out quickly. And, of course, don't forget to plan a fun group outing to one of New York City's amazing restaurants or bars after the show, it's all a part of the unique experience of Broadway and New York City!
Booking your group Broadway tickets
The process is simple and takes just a few minutes.

   
Step 2: Choose the show you want to see.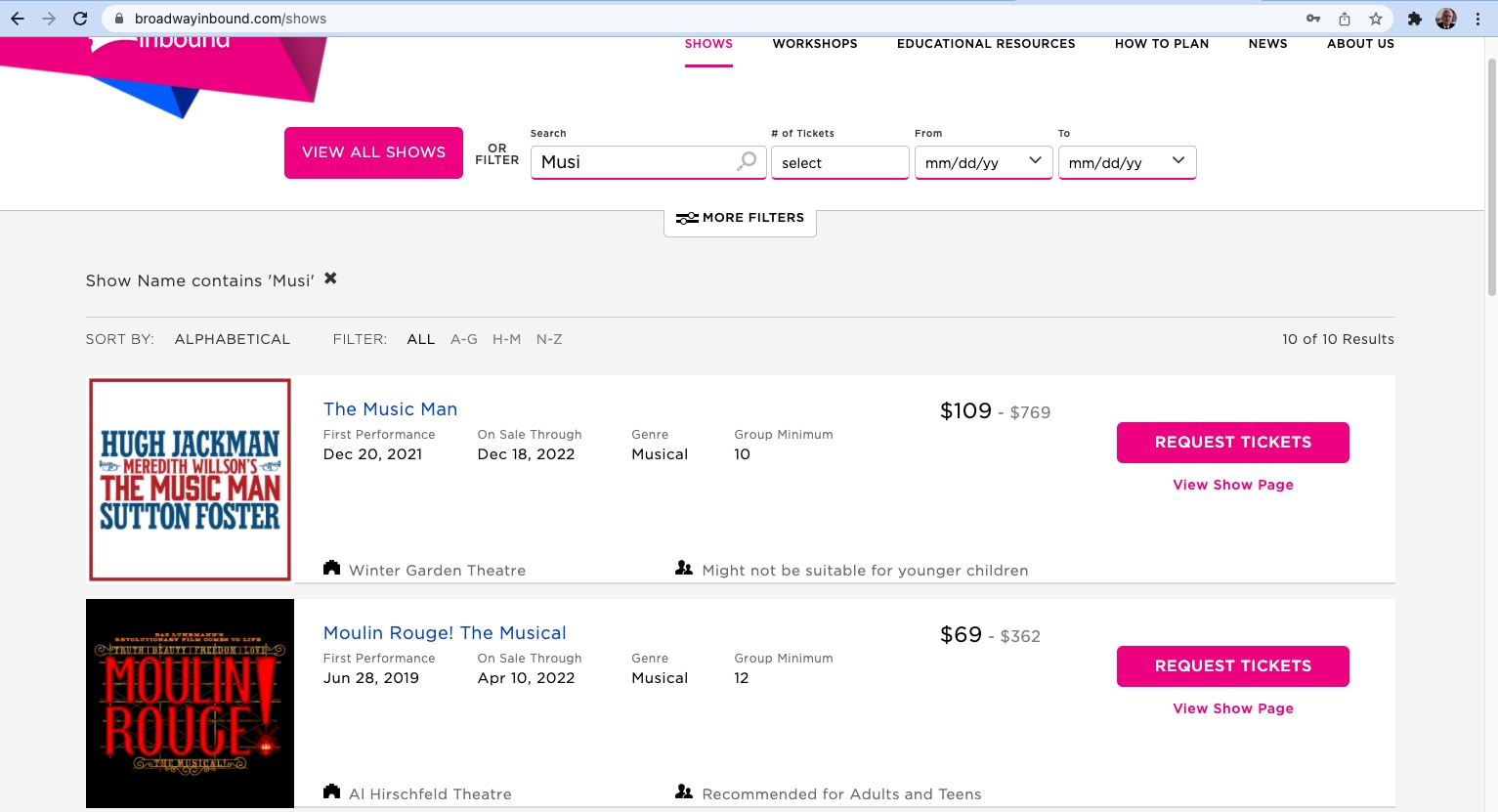 Step 3: Choose the date and time.
Step 4: Choose the seating section.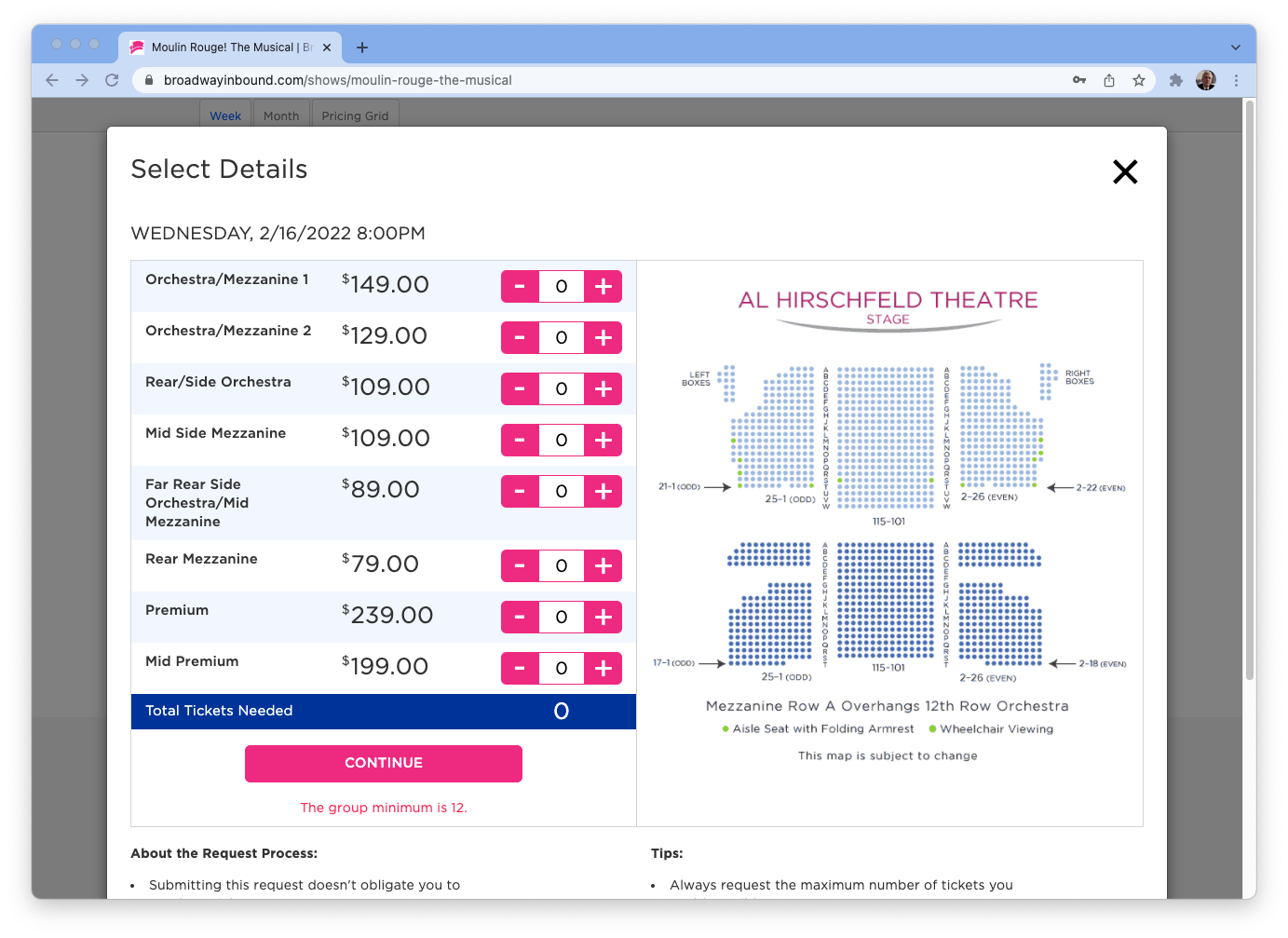 Step 5: Enter a number of tickets for your group.


Step 6: Log in or Create an Account.


Step 7: Enter your contact information.



Once your tickets are confirmed, you will receive an email with an invoice. After you make the payment, there will be one more email that includes all details about your order, and ticket delivery information. For frequently asked questions about group tickets purchase, please see Broadway Inbound's Group FAQ page.
There's nothing quite like a night out at the theatre. Broadway offers some of the most awe-inspiring and well-known productions in the world, and with the right planning, you can make the most of your experience. The combination of talented actors, beautiful sets, and amazing songs create an unforgettable night out. No matter what show you see, you're sure to be entertained and have a great time. Broadway is the birthplace of some of the world's most famous musicals, so it's no wonder that the shows are so spectacular. Whether you're a fan of drama, comedy, or music, there's a Broadway show for you.
Contact Broadway Inbound today to start planning your group Broadway adventure!